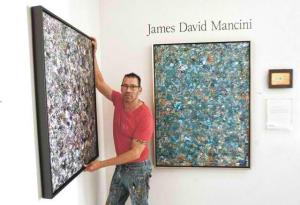 PALM SPRINGS — James David Mancini points at a wide-screen TV-sized print on the wall of Heath Gallery in Palm Springs. Blue and green orbs dot the metallic canvas.

The print, titled "Karmic Thoughts," is different than the other abstract oil paintings covering the walls. It's a photograph of a jar of marbles that's been printed on a metal pallet.

Across the room is something equally as odd that just arrived. It's a painting printed on film, set across a light box.

"During the day, the piece of art can be enjoyed without light," Mancini says. "Once the sun sets and evening falls, an illuminated light box brings the art to life."

Mancini, a Palm Springs resident and co-owner of the gallery, is playing with ideas, trying to change the traditional concepts of painting and photography.

He says he lives his life by a word written on the side of his coffee mug: Reinvent. Looking back at his life, it's something he's done multiple...